"The world functions on survival of the fittest. The strong eat the weak, and the weak just exist to reinforce the idea of "strength". So, it's a matter of time, for when I eat all of you."
—Mu to the Zero Floor Prison's staff
Mu
Kanji

無

Rōmaji

Mu

Alias(s)

World's Most Dangerous Creature (世界何より危険物, Sekai Naniyori Kiken Seibutsu)

Characteristics

Status

Alive

Race

Human

Birthplace

Japan

Gender

Male

Age

33

Education

Self-Taught

Appearance

Hair Color

White

Eye Color

Blue

Inmate Status

Inmate Number

000

Number Location

Back

Other Tattoos/Unusual Features

Canine fanged mask

Cellmate(s)

None

Crime

Murder

Cell Number

000

Building Number

000

Personal Status

Sexuality

Bisexuality

Marital Status

Single

Enemies

Zero Floor Prison Staff

Magic, Abilities, and Equipment

Abilities

Temperature Manipulation
Superhuman Strength
Superhuman Speed
Superhuman Durability

Weaponry and Armor

Demon Mask
Handcuffs
Mu (無, Zero), also known by his given name Shishi (獅子, Lion), is Inmate Number 000, and the only inmate in Zero Floor Prison, a prison constructed solely to house him from the outside word and combat specifically him. He was arrested for many murders, being a sort of serial killer who targeted young people, burning or freezing them using his ability to control temperature, which proved troublesome against authorities, managing to escape and fight back for years, before finally been captured, and eventually placed in the Zero Floor Prison, built specifically to hold him.
Appearance
Edit
Personality
Edit
Equipment
Edit
Demon Mask
: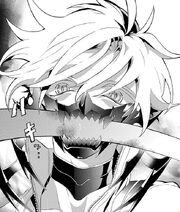 Handcuffs
: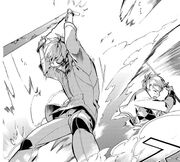 Powers & Abilities
Edit
Physical Prowess
Edit
Temperature Manipulation
Edit
As one could guess, Mu's name means "Zero", referring to his inmate number being "000", as well as his ability to control temperature.
Ad blocker interference detected!
Wikia is a free-to-use site that makes money from advertising. We have a modified experience for viewers using ad blockers

Wikia is not accessible if you've made further modifications. Remove the custom ad blocker rule(s) and the page will load as expected.